Use the iFriends Review to Evaluate This Free Adult Sex Chat Community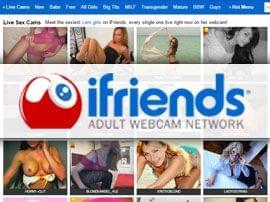 iFriends.net, just like myfreecams boasts itself as being the largest free adult sex chat network online and with approximately 11,500 webcam models on the site it's definitely are one of the biggest. As you enter the site you will be blown away by the sheer beauty and sex appeal of the girls available for live sex shows and the variety of adult sex cams is pretty impressive as well. In this iFriends review I will revise this website's prices, quality and top promotions. Read what I've got to say and then decide if this site is what you're looking for. Look for Ifriends on Twitter too.
Costs
As you know by now, I consider cost one of the most important factors of my reviews and I this eas the first thing I checked when writing this iFriends.net review. Sure, it is a supposedly free adult sex chat site, but we all know that this promise does not cover private live sex shows and full nudity. The average naked chatting cost on this site is about $3.19 per minute. You can buy credit with all the major credit and debit cards.


Number Of Hosts
As I mentioned, there are more than 11,000 live cam babes registered to iFriends and my horny readers will be happy to hear that 250-500 will always be online, waiting to satisfy your every need with their perky tits, fine asses and wet pussies. These chicks definitely get friendly and I do mean that in the "get nude and fuck hard" sense of the word.
Video Tutorial
Top Promotions
Free membership is available to all users and it's lifetime.
Types Of Membership
There are 3 types of membership offered by iFriends.net and here they are:
Standard Membership - When I was writing this iFriends review I immediately noticed that the free membership is somewhat limited, Many features that are offered with any basic free membership on other adult webcam sites are not included and users who choose this option will probably end up paying the extra fees for upgrades. This membership does include free text chatting and access to prerecorded sex show archives, but that's about it.
VIP Status - Becoming a VIP member costs $6.95 per month and has quite a few benefits. VIP members enjoy automatic discount on private porn shows, 50% discount for booking XXX shows and access to Favorite List and Alerts. They can also peek into the sex chat rooms for 20 seconds free of charge, block other members from peeking into their 1on1 shows and watch recorded sexcam clips.
Elite Statues - This membership upgrade costs $9.95 per month and on top of the special attention that it buys you, it also gives you access to the Elite View TM, meaning you can watch several adult

sex webcams

at once.
Special Features
I am always looking for new features, especially exclusive ones, and as my complete iFriends.net review shows, this website has many of them. There is a featured photo section on the right hand side of the home page, a tab just for ladies with HD and high quality cams, a tab for the hottest amateur girls online and a tab for live cam spy mode. There's an archive content bar with videos, photos, HD showcase, replays and the ability to search the whole section for something specific you are looking for. The Hot menu bar is your direct access to some special tools such as sexcam roulette and you can set up dates with the Make a Date feature and save yourself having to wait for a specific slutty camgirl that you like. However, it is pretty annoying that even features such as unlimited free adult sex chat, Favorites and Instant Alerts that are offered for free on most other websites are only available on iFriends if you upgrade. For example, the only way to enjoy the Elite View, a feature which allows you to enjoy several live sex cam shows simultaneously, is to pay the monthly fee required for an Elite Status.
Site Navigation
You won't get lost on iFriends, even if you try. Everything is very neatly organized and you should be able to find what you want without too much hassle. There are a lot of different sections on the site however, so I suggest you spend a bit of time checking out your options and get to know iFriends.net before you dive into hardcore sex cam shows.