Gain insight into adult chats with nude babes on Camplace with Tony's tips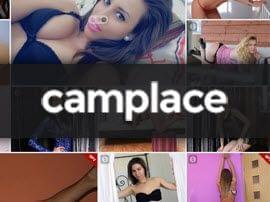 So you want more adult webcamsams ?
In similarity to I'mlive, Camplace.com recently upgraded its website and the new face has certainly made it far more attractive! You can always switch back to the classic view if you're one of those old farts that doesn't like change, but if not, you're in for a pleasant surprise.
The home page is a collage of seductive, gorgeous, near-naked girls who are just waiting to give you pleasure! You can chat for free (with or without an account), pay for your own private chat or spy on someone else's private chat for less! The choices abound! Read further and get the full skinny on Camplace!
Costs
Signing up as a member on Camplace.com is simple and free so there's no need to think that you'll never be able to afford to see your dream girls on live porn cams! Whether you're on a tight budget or not, free is always a bonus, especially when you get to choose from dozens of adult chat shows that will make you stand to attention every time! So, you might have to share them with others, but you'll have unlimited access to all the hottest girls on Camplace for free.
If you want to go private or see them naked, you'll obviously have to pay, but Camplace encourages you to pay by offering all kinds of discounts (see Top Promotions below).
There are two ways to get down and dirty with girls who are completely nude and that's through Private Chats or Spy Shows. The benefits of Private Chats speak for themselves and costs per chat vary depending on the host, but if you don't want to pay the higher price, you can "spy" on someone else's for much less. Spy shows range from 10 to 50 tokens per minute depending, once again, on the host and whether it's a private show or a group show. You can also tip the girls based on how they performed, but tip amounts are entirely up to you!



Number Of Hosts
I can't give you an exact number of chicks available for live sex chats on Camplace.com, but I can tell you, they are in abundance! They come in all shapes, sizes and colors and you will never be short of hotties to have a horny adult chat with no matter what the time of day or night you desire a live porn cam show.
Top Promotions
You may want to remain anonymous (find some balls, man), but there are a few promotions on the go at the moment. In fact, you can get 50 tokens COMPLETELY FREE JUST BY CONFIRMING YOUR EMAIL after signing up!! How cool is that?
But that's not all for new members. Camplace has a rocking special on for first-time buyers of tokens, which is quite impressive. Instead of the usual $19.99 for 200 tokens, you only pay $4.99 – a massive 75% discount – and you save $15. If you choose to buy 550 tokens, you'll get a 70% discount, so it will cost you $14.99 instead of $49.99. A savings of $35.00! Add your free 50 tokens to this and you're well on your way to naked sex with scrumptious women!
These are super discounts if you haven't bought tokens before, but they are obviously limited. If you want to go higher and buy larger amounts – 900 or 1,875 tokens – the discounts are smaller at only 20%, but you'll probably be able to get these prices for longer, so I'd take advantage of one of the special offers for new buyers first! So if you want someone to ping your pong or float your boat, get off your arse and buy your way to bliss!
Types Of Membership
Camplace.com, the place with many adult cams doesn't have many types of users to confuse matters, but then again, they don't encourage you to become more than you are once you spend money! No VIPs on this site, it seems! Before you sign up for regular adult chats, you're simply a guest. You don't have an account, obviously, but you do get a chat name picked randomly for you. Once you've decided to step up and join the masses of hot babes and let them know your new personal nickname, you become a basic member and you can take full advantage of all the live porn cams for free. When you choose to become a real player with your first token purchase and finally pay for what you really want, you become a premium member. From what I've seen, you won't regret paying for pleasure and you'll treasure your premium member status.
Special Features
In addition to the awesome collage of photos adorning the new look on Camplace.com, there are other features on offer to get you going. Many of the girls record their private sessions, which you can watch for a fee by visiting the Video section. And there are no surprises cos the cost of each video is listed on the page.
Then there's the section that shows you who the "Most Popular Camgirls" and the "Best Models" are. They've been ranked from number 1 and you can even see how many live visitors they've had.
But the most exciting feature, in my opinion, is the "Miss Camplace Contest", which shows you the top 20 models for the month! These are the highest earners, which gives you an idea of how awesome they must be in their private chats. I'm drooling just thinking about them.
One other thing I've noticed about Camplace.com is that they're not shy to tell us which girls have been recognized in the Camplace contest. Awards include "Highest Monthly Single Tip", which proves that not all of us are misers when it comes to tipping; "Monthly Online Time"; and "Monthly Longest Private" chats; among others!
I also discovered, by mistake, I might add, that Camplace has a sex blog with many interesting articles. It's a little crazy that they don't have a link to the blog directly from the top menu, so if you're interested in reading about sex, you have to scroll down the home page all the way past the bevvy of beauties in front of you. Not sure how many of you will get that far down, but it's there if you need some sex education!! "10 pleasure points to get you horny" was the first article I noticed on the blog. Hmmm...
Site Navigation
Browsing for magnificent models is not difficult on Camplace, but it's hard... I mean, you'll be hard, very quickly... You can find all the special features I mentioned above quite easily from the top menu. It's only the sex blog that took time to find (as I said, I found it accidentally... when I was going through the FAQs, I landed on a list of recent blog entries and when I clicked one, it took me to the Camplace Sex Blog page), but once you find it, there are some great reads waiting for you.