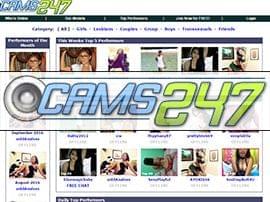 Cams247 really does live up to its name – not always a given when it comes to webcam chat sites. If you're looking for a cam site that really does deliver top quality chat, at all hours of the day and night, you've found it. Not only that, you can enjoy a lot of it completely free – while you'll get even more as a Premium member, such as 1-on-1 private chats and cam2cam, and even more than that as a VIP member! Now I don't know about you, but 10% off Private Sessions, free access to all Live Feature Shows, extra attention and more, sounds perfect to me! Read the full review to get all the details on Cams247.com.
Costs
First things first, let's talk money. Cams247 is another great webcam site which allows you to chat completely free. You don't even have to join to take advantage of this feature, although as we'll get into later, it's best to sign up (for free) since many of the Cams247 models only permit registered members to chat. Once you've signed up, you can chat for as long you'd like – bear in mind though, the model will most likely be dressed (if she's following the site's rules, that is). If you're a regular to cam sites, which I'm guessing you are, you'll know that the real juicy stuff happens in Private and Nude Chats – and comes at a cost. You can take a girl to Private for her set price per minute, which is usually around $0.99 per minute. Other features you'll need Credit for include Tips (obviously!) and Cam Videos recorded by the models. There's also a VIP Membership available, for $29.95, which gets you all sorts of extra benefits. Keep reading to find out more.
Number Of Hosts
According to Cams247, there are around 38,798 'Active Performers' on the site. Of course, this differs from the amount of models who are actually online at any one time. You're likely to find about 500 models online and chatting. Before you say it – yes, there are many other sites with a larger amount of online models, but why be greedy? There are more than enough active hotties on Cams247.com to have a good time.
Top Promotions
Chatting on Cams247 as a regular member is already reasonably cheap, but you can chat for even less with a VIP Membership. For a recurring monthly cost of $29.95 (which you can cancel at any time), you'll get a ton of Special Benefits – and believe me, they are pretty special. If you're going to be the big man and become a VIP, I suggest you do what I did, and go for the more cost-effective solution - 90 day recurring rebill, at $69.95. The VIP Treatment includes benefits such as free access to Feature Shows and archives, and 10% off Private Sessions. See the 'Types of Membership' section for more details.
Types Of Membership
There are three types of Cams247 memberships, which keeps things simple – Free, Premium and VIP. A Cams247 regular membership is FREE – good news for all you cheapskates out there. Once you've purchased Credit you automatically become a Premium Member. Free and Premium Members get these awesome benefits (some of which require Credit):
Chat with thousands of live amateurs
Enjoy high quality video chat with sound
Watch Hi-Definition live feature shows in widescreen format
1 on 1 private video chat, with free Cam 2 Cam
Live Sex Shows in a choice of 3 screen sizes
24/7 Customer Support
Watch Record Private Sessions for as little as $0.99 per video
Message both online and offline models
Remember you'll need to purchase Credit and become a Premium member to enjoy many of these features – but it's well worth it!
Then there's the VIP Membership, which gives you the very best value.
VIP Membership gets you these top benefits on Cams247.com:
10% off all Private Sessions with performers!
Free access to all Live Feature Shows
Any time access to the Live Feature Show archives
Extra attention from performers – they'll be aware that you're a VIP Member!
Replay your private sessions
Access to Recorded Private Show archives
Special Features
This site doesn't offer a huge range of Special Features, but what it does offer, it does well. Here are my top picks:
Voyeur - Cams247.com knows that some of you aren't too bothered about chatting, and would rather just sit back and…watch. That's probably why they've added a Voyeur feature. This allows you to sneak a peek on a Private Show, for around 0.99 a minute.
Feature Shows - Watch hot and steamy shows on your PC, or enjoy them on the go, if you're brave enough, on iOS or Android. New shows are broadcast live everyday on cams 24/7 – and they're free for VIP Members. Plus, check out each girl's past shows for free if you miss one (VIPs only).
Favorites – Add the models you've enjoyed a chat with, or simply like the look of. View them whenever you wish, via the 'My Account' section.
Site Navigation
Cam247 is user-friendly, and you're sure to enjoy navigating your way through it as much as I did. Webcam sites should make it easy to find the perfect girl to chat with, and cams 24/7 definitely does that. Forget scrolling through hot girls who turn out to be offline – click 'Who's Online' and you'll only see the girls who are camming right now. The top menu also lets you click through to see all models registered to the site, the Top Performers, Cam Videos, Buy Credit, My Account, and the Logout tab. You can also view models according to niches, which are displayed below the top menu, along with the number of relevant hosts online now. All you have to do is click!