Use the CamsCreative review to get the best free live sex cam shows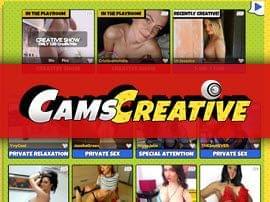 Ever wondered what the girl-next-door gets up to in her spare time? maybe she's in adult webcams.
Well, wonder no more, you perverts! in addition to ifriends and streamate this uplifting and user-friendly cams creative site exposes the dirt going on behind drawn curtains. According to the CamsCreative.com, your very own accountant, friendly bar maid or even the woman you locked eyes with in the street – they could all be on the site, getting horny and satisfied while you watch. Apparently. Good old Tony has conducted a very scientific investigation, just for you. Read on to find out more. One thing's for sure though – if you fancy something a bit different – and by different, I mean better, then you're in right place. Check out Camscreative on Twitter too.
Costs
Let's face it, saying no to a freebie is pretty hard, especially when it involves hot naked girls getting kinky on cam. You'd have to be bonkers to turn that down. For all you morons suspecting foul play, fear not - this deal is legit. That's right, the tiny price of $4.95 gets you the equivalent of $150 of webcam fun. If you're not clutching desperately at your wallets already then let's put it in terms you might understand even better - it all adds up to hours of dirty fucking. The catch is that you have three days to use up all the minutes. Knowing you lot though, I'm sure you'll get through it a lot quicker than that! So what happens next? Signing up for the 3-day trial automatically subscribes you to the site's ongoing program, billed at $33.95 per month. From then on you'll get a hefty 200 'Creative Show Minutes' a month to spend on the 'CamsCreative' sex shows. Once you're a member you have the option to cancel your rebill, but take it from a penny-pinching pro like me - financially the subscription works out much better for you.
One Creative Show Minute is equal to one of the site's Treat Credits, which equals a dollar. Got that? They're basically giving you a ton of minutes, absolutely free.
Wanna take your chosen chick into a private sex chat? You can't use the Minutes for this, but once you've found your favorite, purchasing CamsCreative's 'Treat Credits' at $1 each will get you her all to yourself. To find out how much a babe charges, click on her Private Chat Option (recognizable by their alluring names: 'Naughty Time', '1-on-1 Fun', 'Pleasure Session', 'Erotic Play' or 'Gentle Touch'). Live sex chats will typically cost you 1.98 - 5.80 Treat Credits per minute, but many girls offer discounts of 0.20 or 0.40. Plus, when you've worked your way through the Creative Show Minutes, you can carry on watching the shows with Treat Credits. Like lots of webcam sites, there's an option to tip the models during show and chats. Again, these can be bought with Treat Credits. They're a great way to really to get a girl to do EXACTLY what you want. Who says money can't buy love and sex cams ?
Number Of Hosts
Whatever time I logged on, and believe me, I logged on many times (anything in the name of research), there were plenty of horny babes online. All-in-all, it seems there are thousands of models on this cam site, with new chicks added by the day. Whatever your flavor, or your fetish, you perve, there's a babe online for you.
Top Promotions
If CamsCreative's ongoing promotion is good enough for Tony then it should be good enough for you. I mean, who says no to free sex? Don't be an idiot. To reiterate, psyche yourself up to stretch to the $4.95 joining fee, and you'll be rewarded with $150 worth of webcam minutes to watch sex cam shows over the course of the next three, dirty days. Stay subscribed for CamsCreative's ongoing top deal - $33.95 a month for $200's worth of minutes. Mental!
There's also free Treat Credits to be had. Buy in bulk to get the best deal – 25 bonus Treat Credits when you purchase 250.
Another top promotion to get your grubby hands on is the 50% Discount Code feature! Tip your sexy models using Treat Credits during a CamsCreative sex show, and if you help them reach their tip goal then you'll earn yourself a one-time discount code of 50%-off to use in an intimate 1-on-1 chat with that model. So if you like what you're seeing, or just want to earn yourself something to put in the wank bank, then give 'er one!
Types Of Membership
Either stay subscribed, or don't. But if I were you (although thank god I'm not), I would keep the subscription. You won't regret it.
Special Features
What makes this site so entertaining is its main special feature, the CamsCreative Shows, which you can watch either with your Creative Show Minutes, or with your Treat Credits. These cam shows feature models performing sexy, themed shows, such as: Cleaning Day, In the Kitchen, In the Gym, In the Shower, In the Playroom, and In the Basement, where all the Fetish action goes down. This action takes place around the models' actual houses - if you're lucky you might catch them getting horny in the shower or kinky in the kitchen. It sounds too good to be true - but I guess you'll have it see it for yourself to believe it.
Models decide which category gets them going – but guess who gets to direct the show? Yes that's right, it's you, you losers! Once you enter a CamsCreative Show, you'll be able to pick from a list of related sexy activities to watch and direct during your turn. Select by clicking on the icon of the activity you'd like your babe to perform, then kick back and relish the action while you await your turn. You are now in line to direct and can sit back and enjoy the show until it's your turn to be a porn director. Because let's face it, this is as close as you're ever going to get. You get 3 minutes to direct – and what a great 3 minutes they are! Request what you'd like your babe to do for you and she'll do it – in other words, perfect wifey material! Prefer to just watch? I tried that too and it made for some sensational viewing. Just come in, sit back and enjoy!
Other features include HD-quality streaming for a superior view of all the naughty details in the adult web cams, a messaging feature to be in touch with the cam girls, and an option to thank your models with virtual gifts. There's also advanced search options, to help you find your perfect camgirl, and lots more.
Site Navigation
The website is easy to navigate, and fun to browse. Models in CamsCreative Shows are clearly labelled, while those in private chats are labelled with an enticing category, such as 'Naughty Time', '1-on-1 Fun', 'Pleasure Session', 'Erotic Play' or 'Gentle Touch.' Choose a model at random, or browse according to category via the left tab. The site makes it easy to keep track of how many Creative Show Minutes and Treat Credits you have, and a One-Click to pay option mean you can have hours of non-stop viewing. Just what Dr. Tony recommends!