Read the Flirt4Free Review and Get Free Credits for Live Adult Webcams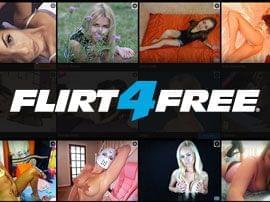 Flirt4Free.com gives you 120 bonus credits, and if you're looking for hardcore live adult webcams, this site is the best. Hook up with sex cam girls who'll treat you like kings, and don't miss the special VIP benefits. However, the private web cam chats are far from being cheap and the only thing that compensate for the slight overpricing is the quality of the camgirls that is generally speaking superb.. As you will soon read on my full Flirt4Free review, there are some sweet, sexy sex cams options but also a few downsides. Now, read through the information below and see which awesome benefits you get on this impressive website.
Another impressive sites are I'mlive, Jasmin and Cams.com. You can also check Flirt4Free on Twitter!
Costs
Don't fall for the name of Flirt4Free. You can, as the name suggests, watch all the hot babes live on free chat rooms - but for a limited amount of time. And let's face it: Trying to get a hot sexcam babe's attention can at times be futile. But hey - most free sex chat deals in the webcam world mean zero sex and not a lot of chatting. If you want real action, you're gonna have to visit the 1on1 porn chats. However, and that's a big however, as I will list on the Top Promotion section of my Flirt4Free review, you do get some free credits which you can use on the naked shows. That's a huge benefit and especially tempting to first time users, who really have nothing to lose by trying out the site.
Other than that though, don't expect any freebees. The Flirt4free.com's performers definitely have a show-me-the-money attitude and the website is more expensive than most other live adult webcams. You can pay only 1.99 per minute, if you share the sexy babe with two others but if you're shy or just want the whole sand box for yourself, one-on-one chat costs 5.99 or so.
Number Of Hosts
As part of writing this Flirt4Free review I began interacting with some of the sex cams models and on average, most were hot enough to fry a streak on. Seriously, I am no greenhorn to live adult webcams you know, but I don't think that I have ever seen such an assortment of dazzling beauties rounded up on one single site before. It is evident that Flirt4Free.com is based on actual models, rather than amateurs, but fuck if you hear me complaining. If I was into fugly chicks, I would still be dating my old girlfriend.
There are close to 5,000 registered webcam chicks on this site, but obviously not as many online live sex cams chats available. You should find at least 150 or even 200 live adult webcams open for cum-draining business when you log on though and that is enough choice for any XXX chat community, least of all one where so many babes are worth a tap.
Video Tutorial
Top Promotions
Get this: Flirt4Free.com gives all users 120 bonus credits free of charge, which you can use on any nude chat room and sample the available hotties. One of the best free cam sites and payment plans deals that I have ever heard of and it comes with no strings attached.
Types Of Membership
There are really 3 types of memberships on Flirt4Free, but 2 of them are free memberships and are identical except of one thing – you either buy credit and sign up as a free member or you don't buy credit and sign up as a free member. So, if you don't mind, I will treat these 2 options as the same one, since you get the same benefits regardless of which choice you make.
Free Membership
You can sign-up for a free account by giving them your e-mail address and choosing a screen name, but you also need a credit card for verification purposes. You get 120 bonus credits as a very seductive welcome gift and after confirming your membership you can simply log in and chat with any host or even with other members.
VIP Membership
As a Flirt4Free VIP, you receive free porn star shows (Vivid Video, Gina Lynn, Ron Jeremy (Legend), Jenna Jameson, Tera Patrick (Score), and Falcon Studios), free group chat, and 10% bonus when you buy time. Cost is $39.95 per 30 days and it also includes additional features and exclusive VIP tools which you can use on your web cam chats.
Special Features
As I soon discovered when doing this Flirt4Free review, there are quite a few special features available. I won't list them all here, but here are just a few of the ones that I like the most.
Performers' Schedules - This is a professional adult webcam site and it appears the hot babes work from a studio according to a fixed schedule - helpful for checking out when your favorite babe will be back.
Famous Pornstar Sex webcams Shows - Flirt4Free regularly have famous porn star appearances. Big names like Jenna Jameson, Tera Patrick (Saving Grace), Silvia Saint and Ron Jeremy have all appeared on Flirt 4 Free in the past. Every week they host a pornstar's show. This featured show is free for Flirt4Free VIP subscribers.
The Flirt Games – Users on Flirt4Free.com earn points for various online activities, such as chatting, sending gifts to models, etc. These points can mean additional benefits and free extras.
Flirt of the Month – This tool enables you to vote for your favorite models from inside the web cam chats area by clicking the vote button directly above the video. If the camgirl is offline, check out her content in the archives.
Site Navigation
The top navigation bar on Flirt4Free.com is enough to get you to sex web cams anywhere that you could possibly want to go to. I recommend you use the website's info pages and look around before you send an email, crying for help. You will receive a quick answer, I am sure, but I noticed while writing this Flirt4Free review that this site is awfully generous with information (which is a relatively rare attribute in the world of live adult webcams) and usually whatever it is you want to know has already been answered somewhere before.