Read my ImLive review and watch top-notch adult webcams for less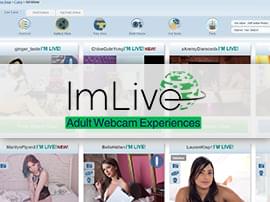 If you are searching for the sexiest webcam models then ImLive offers you endless promotions and discounts making it one of the cheapest cam sites out there. Here your membership is totally free, and upgrades constantly as you use the site more and more granting you even more perks and benefits. The best part is that the live sex cams start at only 0.98 credits per minute! Below I will give my full review about why this site can safely define itself as the world's largest and most popular webcam sites in the world. For updates and more, you can also follow ImLive on Twitter.
Costs
The cost is definitely the most important part of the review. You can enjoy plenty of free live chats and the prices for private shows are between 0.98 and 5.80 credits per minute. Obviously, if the Host is more experienced or popular then the prices will be slightly higher. Don't worry though because you can still find plenty of live sex chats and Pornstar Shows at discounted rates or for free.
Number Of Hosts
This webcam site will definitely fulfill all your desires. With over 80,000 registered amateur and professional babes, at ImLive you will never run out of horny girls to feast on.
Video Tutorial
Top Promotions
ImLive offers both weekly and campaigns, as well as huge sign up bonuses. As soon as you sign up and become a member you'll constantly receive cool offers and perks in your inbox. Also, you get watch highly anticipated porn star events every month. Bear in mind that if you log in from your mobile and you'll get 15 free credits.
Types Of Membership
There are five membership levels on ImLive
ImLive (free) Member:
Here you can enjoy unlimited free live sex chats, free messenger text conversations with cam girls, check out their profiles and view some of their pics.
Then by the time you spend a bit more, you will become a Bronze Member. With this you can join a performer's Discount Club and get a 0.60 credit/minute discount to spend in the chat room. You can also watch hot monthly contest videos and Pornstar Shows for free.
Bronze members who collect 100 points will automatically become Silver members. With the upgrade you can get 10 bonus chat Credits and up to 10 bonus Strip Club Credits each time you make a purchase. Plus, when you join a performer's Discount Club you'll get a 0.70 credit/minute discount to spend in her chat room.
Now, the Silver Members who accumulate 1000 points become Gold Members automatically. You will also get 20 bonus chat credits and up to 20 bonus Strip Club credits each time you make a purchase. When you join a performer's Discount Club you'll get a 0.80 credit/minute discount to spend in her chat room.
Lastly, the Gold Members who collect 10,000 points become VIP Members automatically. This is the highest membership level you can get. You should have tons of lube ready because with all these benefits, you'll be working your arm extra-hard: For every 5000 points you collect, you'll get 50 bonus Credits. You'll also receive 25 bonus chat Credits and up to 25 bonus Strip Club Credits every time you buy credits. When you join a performer's Discount Club you'll get a whopping 0.90 credit/minute discount to spend in her chat room.
Special Features
The site has tons of special features like Monthly Video Contests, Multi-Viewer, Pornstar Shows and GroupCams. Needless to say, these people surely know what they're doing and they keep adding hot features all the time.
Site Navigation
The navigation of this site is pretty easy and user-friendly. There's more than one way to find hosts according to specific features and characteristics. You can use advanced search or select a category and narrow your search according to fetishes, features, ethnicity, body type, bust & ass size and more.
Host Profiles:
The interface is quite user friendly and the user can definitely enjoy all the models and their raunchy pictures before they get to chatting.
Customer Service:
You can definitely reach out to them for any sort of assistance.
Language:
The language of the site is English.
Pros & Cons:
Pros: Great special features, membership option and free cam shows.
Cons: Models can be busy or overbooked.