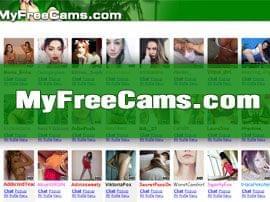 Well, it's no news that the live sex cams chats are immensely popular and we love to stay online with a hot, sexy temptress! And if they give us a happy climax then it doesn't get better than that. Myfreecams offers you exactly that! Here you can get a bunch of warm-blooded, hungry babes who are just waiting to give you what you desire.
This site gives you a wonderful option to remain an anonymous guest. However, Myfreecams.com will surely encourage you to become a member so that you can take advantage of all the exciting features on the site – and the best part is that it won't cost you a cent. Obviously, there are paid options and features, but that's stays up to your discretion.
One thing that I absolutely love about My Free Cams is that the models do not require doing anything specific or following a strict script. Whatever happens in a private chat is up to the model and the member. Also remember, you can re-watch your recorded show over and over again at a later – at no cost!! Now you know the basics of the site, let's discuss some of the specifics!
Costs
This is definitely the most important aspect about Myfreecams.com! While you never have to pay a dime to enjoy the site, you won't get the full benefit of nude cam girls if you don't. So, if you want to enjoy full nude shows you will certainly have to buy tokens. There are three options: 200 tokens will cost you $19.99 (10c/token); 550 will cost $49.99 (9c/token) and 900 will cost $74.99 (8c/token).
Number Of Hosts
I'm not absolutely sure about how many models are registered with Myfreecams, but you'll surely find around 1,000 of them online at any one time. I guess that's plenty of frisky, ravenous models with great assets waiting to please you for one session. And, trust me the options are endless once you start exploring.
Video Tutorial
Top Promotions
I haven't come across any promotions on Myfreecam.com; but the more tokens you buy at one time, the cheaper each the session becomes. Also, you will get one Reward Point for every 10 tokens you purchase and you can redeem them in various ways with different features.
Types Of Membership
Unlike other live sex cam websites, this site does not have any specific type of memberships. In fact, apart from the other usual anonymous guest status, you can only become a member in two other ways – Basic Member and Premium Member. Being a guest, you can definitely check out quite a bit of the site, however, models will choose whether or not to allow you into their sex cam chat room. But beware, lurkers often don't gain access to the best stuff.
Special Features
Perhaps the best feature you can see on this site is "The Lounge". This is quite a rare feature on other webcam sites. This is a place where you can just "Chill Out" if you are a private member. Here you can watch any of the live models by using your special controls and even talk to other models while doing it. Come to The Lounge to share thoughts on what to do in a sex chat, or you can also help out fellow members by recommending some hot models you've liked before. Similarly, you can also get such suggestions from others.
Site Navigation
The navigation is quite simple. One can find all the models on the home page and the menu section is also quite straightforward. However, if you wish to change your personal settings, it's also right there under the menu! So take your time and enjoy a great time with all the luscious ladies.
Customer Service:
You can definitely reach out to them for any sort of assistance.
Language:
The language of the site is English.
Pros & Cons:
Every site will have pros and cons. But that cannot be realized until you start using them. But all in all, this site gives you a great variety of models and also some great special features. But on the con side, you have to become a registered member to get all the special advantages of the site.