Enjoy Free Nude Cams on the Camster.com review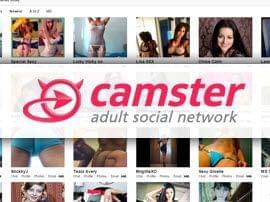 We all like to play with hot cam girls in adult sex cams without spending a nickel. If you're reading this review instead of visiting Camster.com then you must be a cheap-ass as well.
So no, Camster (like liveJasmin) is not a free nude cam site, but come on - a site that calls itself 'Adult Social Network' can't be too pricey. I mean, social media as we know it is normally free - right? To get started, create a free account and start browsing free live cams. You can see a lot of skin for free, trust me. If you want to see a bit more, you can 'spy' on private shows, or join shows alongside (hundreds of) horny guys - for a reduced rate. There's an amateurish, light-hearted feel to this site and most models are real 'girls-next-doors'. Like many sites with free naked cams, the design is kind of sloppy and so are the words. While they're no pros, the babes here are having fun and may even treat you to some skin or even hard-core action before you pull out your card. Now, before you take off your pants, take a few minutes and read my words of wisdom on Camster.com. The guys on Camster say that our happiness is their priority - read on to see if that's true.
Costs
Cheapskates, rejoice! As you know there are no free lunches and no free nude cam sites either. But still, as Camster.com is kind of informal, you might get a glimpse of a wet girl playing with her dildo, or a horny Latina sucking her own tits - even in free chat mode. I guess the owners of Camster know that you're a penny-pincher, so they even offer a spy mode - use it to 'spy' on the show you want to watch for a reduced per-minute rate, but without audio & chat capabilities. Private chat costs $3.99 on average and show mode - with other horny asses like you - is around $1.99 per minute.
Credits for sex webcams can be used for private chats, tipping the models for special requests, and participating in group shows and spy shows. If you don't mind shelling out $19.95 per month, you'll be able to email the models and send them private messages, and you'll also get 20 credits on the house.


Number Of Hosts
Camster has over 26,000 registered models, about 40 of which are online on average. Don't worry though - you'll always find a hot cam girl to fulfill your wildest whims with. And yes, you can find all the usual categories, like Latinas, Big tits, Big ass, Brunettes, Redheads - Many of the models appear under more than one category. Still, I like this site because it's so amateurish and informal and you can get much more here than on the average free nude cam site. This is really the perfect 'girl-next-door' kind of site. Most models are real women chatting with you from their bedrooms and they don't beat around the bush - many of them will tell you right up front how much it will cost you to see their boobs, juicy ass or other assets. Expect some technical issues every now and then but you can tell that these models really enjoy themselves, and there's a pretty lighthearted feel to this site. After all, the slogan of Camster.com is 'Adult Social Network'.
Video Tutorial
Top Promotions
The only top promotion I could find on Camster.com is this: When you get a premium subscription ($19.95 per month), you also get 20 free credits. Sounds good to me.
Types Of Membership
After spending hours on Camster.com (so you don't have to), I got all the nitty gritty details for you. Camster offers three types of memberships:
Standard Membership - With the standard free membership you'll enjoy most of the site's features, including live paid sex shows. You can also enjoy free video teasers created by hot online models.
Premium Membership - If you're a heavy-spender you may prefer the premium membership, as it allows you to spend more than the $200 normal daily limit. Needless to say, you'll get up close and personal with more webcam models than anyone else.
Monthly Subscription - If you don't mind spending $19.95 per month, Camster will treat you to a one-time bonus of 20 free credits. The monthly subscription also includes unlimited emails and private messages to models. If typing excites you more than watching naked hotties on cam, that is.
Fan Sites Subscription - Many models offer a subscription to their fan site for $19.95 per month. Fan sites are very personal and feature intimate videos, tasty photos and sexy blog updates. On some of them you can even post special video & photo requests.
Special Features
I know you guys - just like hundreds of other stingy assholes, you'll try to watch as many nude babes as you can for free. Don't worry, Camster has got you covered - with spy mode you can watch models giving private show for a reduced rate or join group shows in show mode for as little as $1.99 per minute. If you're not too shy, some models may want to watch you on cam2cam mode, during private chat. Some of them even offer it for free.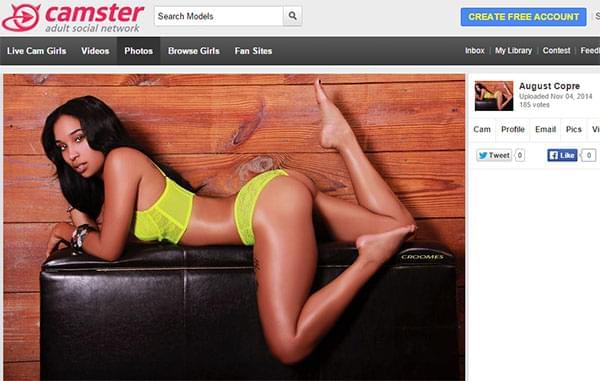 Site Navigation
Navigation is pretty easy and user-friendly. If your Internet connection has been down for a long time and you're really horny, you'll find your Latina or Big-ass babe in no-time. Hit 'All Girls' under 'Live Cam Girls' and start enjoying free nude cams! You can easily access all the girls' categories and their video teasers, including trending and recently viewed videos, right from the right-hand sidebar, so if you're left-handed you'll be fine. Now guys, please excuse me. There's a hot brunette playing with her dildo right now and I'm about to miss her show, so adios.