The PeekShows.com Review Helps You Choose Online Sex Cams.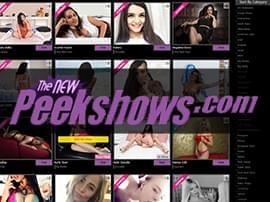 PeekShows.com is trying it's very hardest to get your attention at the moment and I say it's worth a gander. To start off, not only does this adult webcam site let you sign up for free, but it also gives all members incredible discounts when buying big token packages. But the promotions don't stop there. When you do take advantage of the free membership, you will discover that the generous people at Peek Shows are giving all new users 25 FREE tokens, just as a welcoming gift. This means that you can have quite a bit of nasty fun on the online sex cams before you actually start paying. Want to find out more about this site and its special offers? Read my full PeekShows.com review below.
Costs
On most adult webcam chat sites, you get to take advantage of their free live chat before you sign up, but here you'll find it's a little more risqué than others. As well as a naughty sex chat, you might also get a Peek at some ripe big breasts too, which is more than you get elsewhere. Private online sex cams cost around $4.99 per minute, which isn't cheap, and you can peek into other folks' peek shows for only $1.99 per minute, if voyeurism is your thing.
When it comes to splashing the cash, there are plenty of ways to pay for these purrrrfect wet pussy cats. As far as credit cards go, you can pay with your, Visa, MasterCard, JCB or Discover. And to make things even easier for you, payment with your ePassporte account is also available. Plus, when you do get to buying tokens, buying in bulk gets you massive discounts and also skips the daily purchase limit problem. You can also fill out a simple credit card authorization form and receive further discounts no matter how much you spend. In general one token is like $1.19, but if you purchase plenty of them at once, you'll be saving big time.
Number Of Hosts
It became very clear in the very early stages of writing this PeekShows.com review that this site could definitely use some more online sex cams. There are 1,200 or so amateur babes registered, which isn't bad but only 100 or so are usually available and that's far from being enough. I hope this adult webcam site would round up some more sweet babes. The ones it has are hot, but horny cam users need a bit of a bigger choice.
Video Tutorial
Top Promotions
There are 3 promotions that deserve to get mentioned on my PeekShows.com review, and they are all pretty awesome in comparison to what you get on other adult webcam sites.
New members get 25 free tokens, which they can use on any online sex cams.
All members receive instant discounts when purchasing the biggest token packages. Do it – being a smart shopper on this site is highly recommended.
Free lifetime membership with no fine print.
Upgrade your membership to Premium (it sounds fancy, but it's free) and get - hang on tight - 1,500 tokens on the house.
Happy Hour takes place every Tuesdays on fixed times.
Double Token Mondays – On Mondays, in very specific times, users enjoy twice as long shows for the same tokens.
Types Of Membership
There are 2 types of membership available on PeekShows. They are both about the same and the only thing that really sets them apart is the fact that the premium membership requires that you register a credit card number for verification. You can just sign up as a regular member, but then you won't get the free tokens.
Basic Membership – This membership is free and you don't need a credit card to sign up. It's a good way of checking out the live camgirls online and seeing if this site has the right adult webcams for your kinky needs. The only real catch is: No free tokens, unless you upgrade to premium membership.
Premium Membership – When I was writing this PeekShows.com review and saw the premium membership upgrade, I wasn't too pleased. As anyone who has read my adult webcam reviews knows, I don't like paying extra. However, when I saw that becoming a Premium member was totally free and only asked for a CC number for verification, I calmed the fuck down. Then I saw it also means you get 25 FREE tokens and then, well, you can guess the rest – I was a registered member and chatting with a naked babe in a matter of seconds.
Special Features
There are some very cool additions to the adult chat rooms which I recommend you take advantage of. Here are a few of the more interesting ones.
Control the video chat size – One of the first things you'll notice is way you can enlarge the video size at the click of a button without losing any picture quality.
Camgirl Blogs – All the sexy camgirls on Peek Shows write blogs for you to browse through and take a peek at their naughty new pics, XXX videos and hear all their kinky thoughts and stories. I know most of you aren't big on reading, but these sexy tales might get you to change your mind and they're way more entertaining than that 50 shades of off-white or whatever the fuck you call it.
Bank and Wallet Feature – You can decide if you prefer to hold your tokens in an online wallet or in the site's online bank and have more control over managing your funds.
Site Navigation
Well, Peek Shows has definitely been planned well. The navigation is obviously made so that even the biggest dumbasses among my loyal readers will be able to locate the online sex cams and start chatting with the beautiful chicks on webcams where you can find also great camgirls money if you are looking for a great home income. My only concern is whether you guys actually manage reading my PeekShows.com review, since you know, I am using 2 syllable words and all, but whatever – I am pretty sure that you'll succeed in getting around this adult cam site even without my kind assistance.