What Is Real Life Cam?
If you'd like to have a look at other people's private life, gaining all round the clock access, real life cam is a perfect solution for you! It's a unique resource that lets you do just that: peep into other people's lives in real life cam.
And no, the people you see are not actors – they are real people going about their daily business in the apartments under surveillance. It's worth mentioning, however, that they do know about the cameras and have consented to being filmed. Otherwise, the service would simply be illegal!
So, how does the website work?
It's very simple. Choose any apartment, click on the cameras – and off you go! Change the view and watch the people living their lives. The list of the available apartments is clearly displayed, along with the list of the video cameras you can choose from.
Some cameras are marked with a lock sign, which means they have restricted access for visitors. Other cameras have a little green speaker sound next to them, meaning that you can not only see, but also hear the stuff happening inside the apartment!
Not everyone has the time to stalk the cameras all day, so the resource also offers a replay feature, allowing you to replay any content from the past 24 hours. The interface is very simple and intuitive there, much like working in a video editor or watching videos on YouTube. Replay feature can be accessed by purchasing tokens via a third-party payment processor. Remember though – all sales are final, and you can't get a refund for a token package once it was purchased!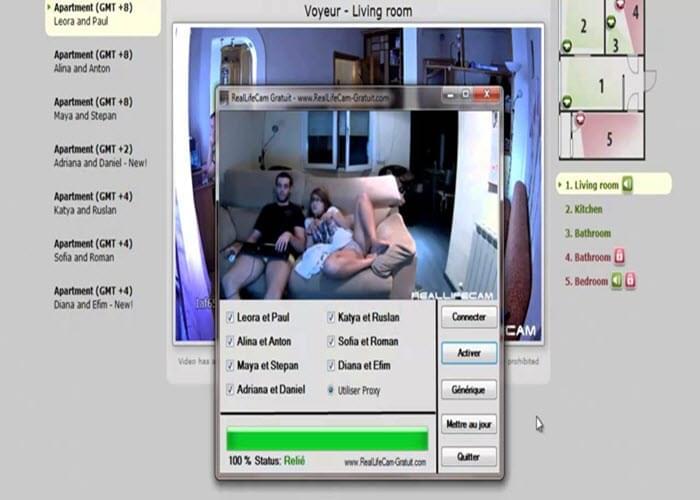 There are two different types of memberships for those wanting to take advantage of real life cams.
First one is the standard membership, which includes:
Access to closed cameras including bathrooms and bedrooms
Up to 3 private simultaneous streams
And then, you have an option to pick a premium membership, featuring:
All features of Standard.
Motion Detection. Small indicator in front of each apartment/camera menu item will let you know where motion is.
Multi-Viewer. Up to 4 video players on the page at the same time.
Up to 5 private simultaneous streams (Instead of 3 for Standard Membership).
Previews of popular cams.
Auto-follow top cam. It automatically switches the player to the most popular camera currently.
Full-screen mode. Full-screen mode allows you to use the entire computer screen for watching.
RLC Remote. Control the website from your mobile device
Upgrading from one to another is very easy. All you need to do is cancel your current standard membership (contact customer support if you experience any issues). Then, join the resource again but now with the Premium option – and your Premium membership duration will be recalculated depending on how long you've been holding the Standard membership for!
With real life cams, the private life of other people is at your fingertips 24/7.
With real people showing off their lives all day long in a safe, legal way, there is no better resource than that! Looking for more excitments? go to I'mlive!